I left you hanging last week. When a class of my high school students were posed the question: Who is the best villain of all-time, there were many nominated as you saw last month, but the hands-down winner was….THE JOKER!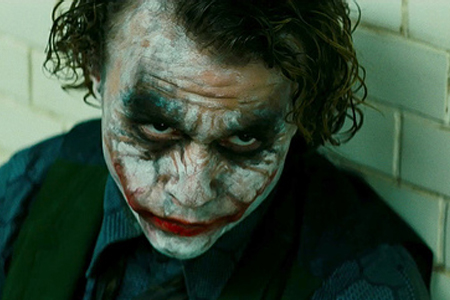 Here is what they had to say about it:
·
Because he has no motive to being evil: he simply does bad things to cause destruction and problems.
·
He is the most likeable villain b/c he is so interesting in the crazy way he looks and his actions are crazy.
·
Because he is kreepy and is very crazy he has a personality that is really mean and just the way he looks is scary.
·
The Joker immediately comes to mind because the way he is played out is so differently evil. He acts evil in a way that you can also feel his emotions and his motives behind all the acts he does. –Jenny
·
Muahaha…he is very clever and quick and very spontaneous with his villainous crimes. Not to mention Batman actually has a struggle fighting him.
·
Because his name tells so much about him.
·
I don't really know why he is the best villain but he is entertaining and interesting.
·
Because he is so interesting and creepy. His evil methods are so strange yet thrilling at the same time. –Kevin Lyle
·
Because he always knows people's weaknesses and gets what he wants without any superpowers. He only takes advantage of people to get money or Batman. – Brandon Miller
·
Most likely because he intimidates me with his clown-like look and crazy thick red lips, and that haunting laugh.
·
The pure evil that pours from this character is un-paralleled. He has no motivation except to watch the world burn. Pure un-predictability. – Brendan Gallagher
·
Because he's crazy and different from all of the other villains. He has his own style…
·
He is my favorite because Heath Ledger did such a good job playing and becoming the character. Also The Joker is such a unique character and he is unlike any other villain.
My students, when asked, were talking about Heath Ledger's performance of The Joker in their responses.

I think that the reasoning behind WHY he is the best villain is helpful for tapping into the core of what is most terrifying to teenagers, and may help in the creation of villains written for that audience.
At the core of their fears seems to be the following key fears:
*No discernable motivation for his actions rendering him unpredictable. At a time in life when there are so many unknowns, this terror makes sense.
*Can read people's weaknesses and exploit them. This seems to be a universal fear, but I often hear a sense of uncertainty in my students as to whether or not they can "pull" in regards to mischievous behavior; they are often testing the limits of what will be believed. And even at its more benign, teens aren't quite sure yet how much others can see through them to their more vulnerable state.
*Unique/Different. Often "otherness" described in appearance. It's Interesting this was mentioned so much when YA lit is often defined by a need to be different/finding your own uniqueness, and teenagers often claim to hate to be defined by appearance.
* He will do the villainous thing—the thing from which even Batman will struggle to protect us, thereby showing us that those who are to protect are imperfect and may fail.
Contrastingly, when I did a quick Google search to read about what journalists had to say about the Ledger Joker, most posts at the top of the search claimed he based his performance on Tom Waits, but there were many more nuanced readings to be found. They touched on many of the points the teens mentioned, but most, like this one, spoke of the terror one man might create on a macro-scale, something conspicuously absent in the teen responses. Interesting, especially when considering the dystopian trend sweeping YA Lit right now.
As for Ledger himself, he said: " I just locked myself away and formed a little diary and experimented with voices... I ended up making him within the realm of a psychopath kind of like zero empathy or very little to no conscience towards his acts which is fun because there's no real limits on their boundaries to what he would say or how he would say something or what he would do..."