Once a month, we choose an outstanding YA book to review. We want to spotlight books of interest to aspiring writers, as well as highlight some of our favorite books and authors.
This month's book is AN EMBER IN THE ASHES by Sabaa Tahir.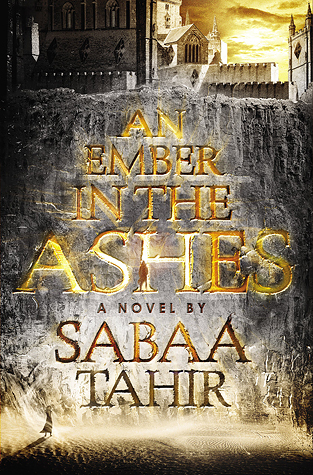 Synopsis (from Goodreads):
Under the Martial Empire, defiance is met with death. Those who do not vow their blood and bodies to the Emperor risk the execution of their loved ones and the destruction of all they hold dear.

It is in this brutal world, inspired by ancient Rome, that Laia lives with her grandparents and older brother. The family ekes out an existence in the Empire's impoverished backstreets. They do not challenge the Empire. They've seen what happens to those who do.

But when Laia's brother is arrested for treason, Laia is forced to make a decision. In exchange for help from rebels who promise to rescue her brother, she will risk her life to spy for them from within the Empire's greatest military academy.

There, Laia meets Elias, the school's finest soldier—and secretly, its most unwilling. Elias wants only to be free of the tyranny he's being trained to enforce. He and Laia will soon realize that their destinies are intertwined—and that their choices will change the fate of the Empire itself.
Highlights: I put off reading this book for a while, and I wish I could go back in time and slap myself. My main hesitation was the amount of press the book was getting--I'd been similarly lured into reading another recently-released fantasy book that was garnering a lot of attention, only to be way waaaay waaaaaay let down. Thankfully, AN EMBER IN THE ASHES was nothing like that book that will remain unnamed, and deserves every ounce of attention it has received and then some.
The story is told in alternating perspectives: Laia and Elias. After witnessing her grandparents slaying and her brother arrest, Laia seeks the help of rebels, hoping they will rescue him. As payment for their help, they send her to Blackcliff, the Empire's military training center, where she poses as the Commandant's slave. Elias is a student at Blackcliff and the son of the Commandant, training to become one of the brutal soldier/assassins known as Masks. Except Elias doesn't want to be a Mask.
Things I loved:
1) The setting. The Rome-like empire felt very different from many of the fantasies I've read as of late, and the world-building was stellar.
2) The Commandant. She is hands down one of the best villains I have read. She is brutal and yet totally believable. I also loved that the bad guy was not a guy at all.
3) Elias. While I loved both Elias and Laia's stories, I found Elias' the most intriguing. The juxtaposition of his desire to escape Blackcliff while at the same time being one of the best and brightest soldiers makes for a very compelling read.
4) The plot. This is not your classic slave-meets-royalty story as I'd originally thought when I read the description. This is a twisty, turny, you-won't-want-to-put-it-down read.
In short, Tahir is a genius, and I really hope we hear more from her in the very, very near future. So go read it, K?
A good read for: fans of fantasy who are looking for something unique and different. Writers looking for world-building inspiration. And well, everyone. Everyone should read this book.
Happy reading!